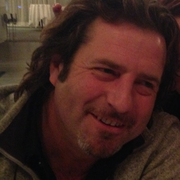 M. Paul Field, Elemental Scientific, U.S.A.
M. Paul Field was born in Newfoundland, Canada where he later attended and graduated (1990) from Memorial University of Newfoundland. While there he obtained his BSC degree in Geology with an honors dissertation focusing on the Geochemistry of ore deposits. After completion Paul moved to Saskatoon, Canada to enter the graduate program at the University of Saskatchewan. There his masters degree focused mainly on the trace element and isotope geochemistry of Mesothermal Gold Deposits in Northern Canada.
In 1993 Paul accepted a job with Robert Sherrell and later Yair Rosenthal at Rutgers the State University of New Jersey in the United States where he proceeded to develop and supervise Rutgers Inorganic Analytical Laboratory (RIAL, Institute of Marine and Coastal Sciences). While at Rutgers Paul pioneered a number analytical methods for a wide variety of disciplines, including trace metals in oceanographic dissolved, particulate and carbonate phases. In addition to mass spectrometry Paul participated in numerous oceanographic cruises, (including the GEOTRACES inter-calibration) study.
Paul has over authored over 30 publications and given some 200 plus presentations encompassing a variety of research areas — ranging from analytical techniques to understanding behavior of trace metals in hydrothermal plumes.
In 2011, he relocated to Elemental Scientific (ESI) in Omaha, Nebraska to oversee the development of instrumentation and automation for a wide variety of disciplines. His current research interest focuses on a variety of automated chromatography systems for trace metals, isotope ratios and trace metal species. Today, Paul retains a position at ESI and continues to contribute to the advancement of their specialized sample processing and introduction systems for ICPMS.